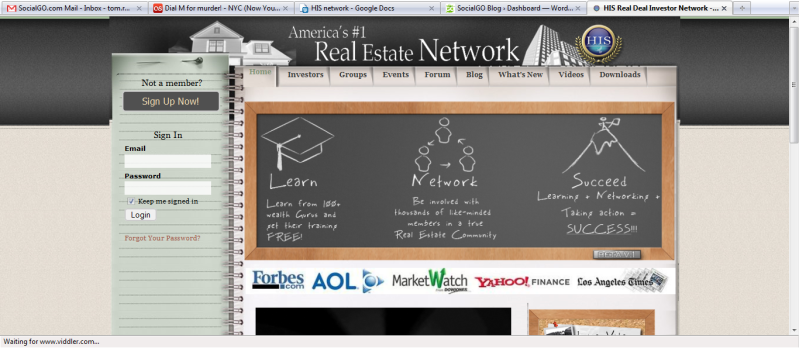 There are plenty of hopefuls who try their hand at the Real Estate industry, but those who don't know what they're doing are going to fail. For property investors, few things are as valuable as a source of insider business tips and information. HIS real estate network lets you know the benefits of its features as soon as you hit the landing page. You are greeted by customised graphics displaying all the site features as well as an automatic video that informs potential users about the free sign up and 100's of downloads available. All of this is arranged in the framework of a professional yet playful office stationary theme.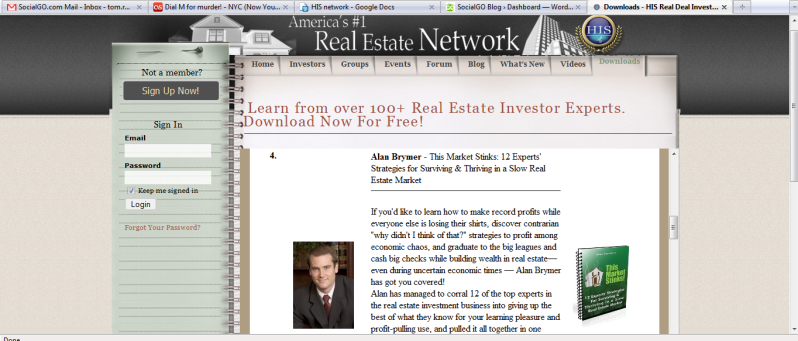 The network aims to attract property investors who seek communications with other professionals. There are about 500 investors, all of whom can make contributions to the community based on their experience. These contributing professionals are what makes the network valuable, justifies a sign up fee and makes membership an attractive prospect to new investors. These experts in the field of real estate provide their strategies and tips which are available on the downloads page. The forum is also used to disseminate industry tips to investors. There is a thread for investors seeking legal advice and another where properties can be listed free of charge.
If you work in an industry that depends on being in touch with the right professionals, then online social networking is an indispensable tool for your business. The more professionals stand to benefit from access to exclusive information, the more you are justified in charging for access to it. Find a way to isolate vital intellectual property into a restricted community, and your success is assured.